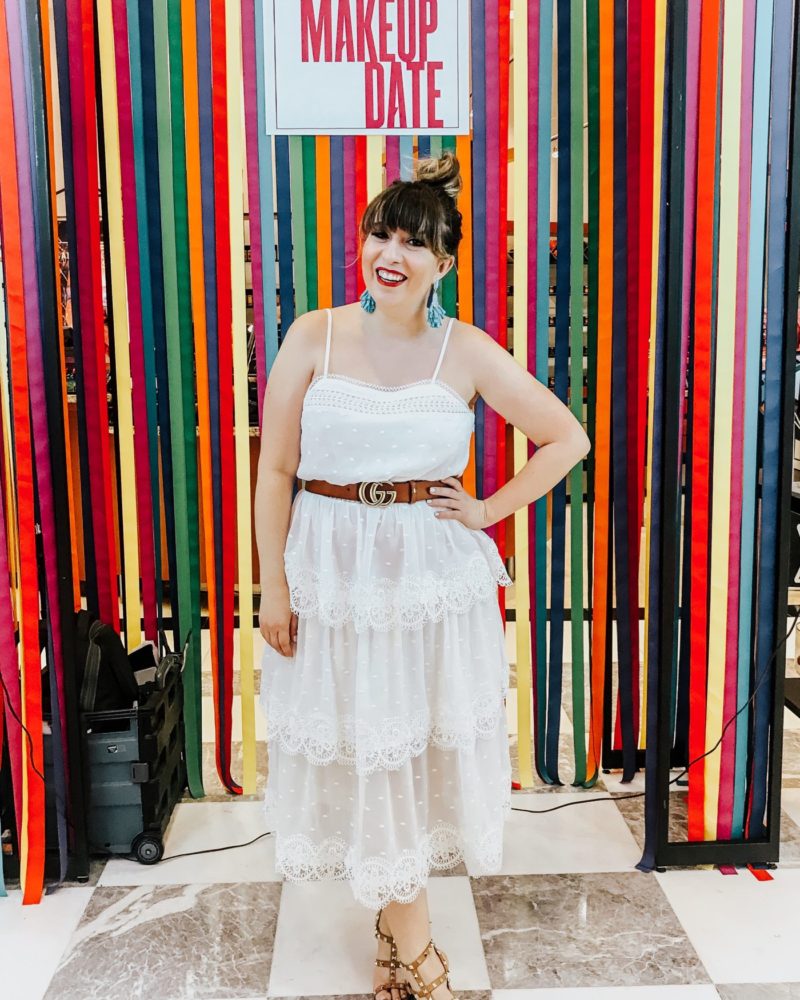 If you follow me on Instagram, you may have caught that I hosted The Makeup Date at Bloomingdale's on Saturday. I love Bloomingdale's and had the best time hanging out with shoppers, offering up tips, and chatting with brand reps from some of my favorite beauty brands about spring trends and their newest product lines!
So many amazing ladies came out to shop, learn more about beauty, and get some great tips. I loved meeting so many great women! One of the main reasons I ever even started my blog was because I love to share my favorite things and the things I've picked up over the years in my time working in the fashion industry, so having the chance to do so one-on-one, face-to-face… was totally priceless.
I got to thinking a lot about the tips I shared and some of my absolute most important beauty tips and thought it would be fun to share in a blog post! (Since so many of you are not in Miami and couldn't be at my event!) Keep in mind that I am not a doctor and not a derm… these are just tips I've learned or picked up over the years.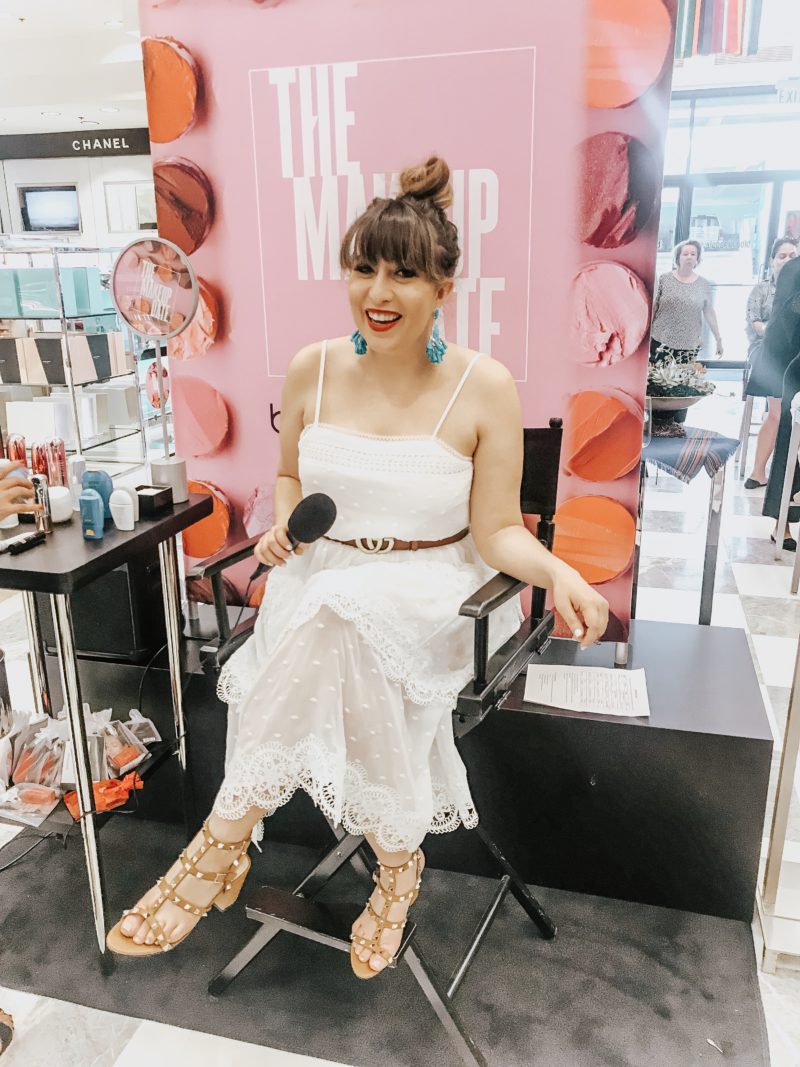 Outfit Details
---
Rockstud Leather 60mm City Sandal • Valentino Rouge Dior Lipstick in shade 999 • Christian Dior Web belt with Double G buckle • Gucci Cristina Earrings • Kendra Scott Lace-Trim Tiered Midi Dress • Aqua
---
7 Things That Will Change Your Skin
(1) Drink water. This is a huge one. Everyone always says that drinking plenty of water is important, and I know that in the past I've totally waved it off like, yeah, yeah I get it… but it's SO. TRUE. When you're fully hydrated, you can see it in your skin. Just take a look at your finger tips! When I'm dehydrated or need to up my water intake, my finger tips are all prune-y. If you're wondering if you need more h20, take a peek at your own digits. Being fully hydrated is important not only for your skin, but for weight loss! Your bod needs water.
Make sure you drink as much as you need… the standard recommendation is 8 glasses of 8oz a day, or half a gallon of water per day. The actual amount you need is really based on how much you weigh. I'd say go by the half gallon a day rule and you're golden. If you need help actually getting all of your water in… I recommend trying water bottles or straws. I drink so much more water when I'm chugging water bottles or drinking through a straw. If you get sick of the water, try infusing yours with fruits for a little refresher.
(2) Moisturize, moisturize, moisturize. Keeping your skin moisturized the key to beautiful, flawless skin, as well as preventing lines and wrinkles.
If you struggle with acne, you may tempted to dry your skin out in the hopes of drying out the spots… which, yes, is partly right. You do need to dry out the spot… but your skin needs to be fully hydrated. Spot treat zits with a drying formula or something that contains salicylic acid or benzoyl peroxide… but make sure that the rest of your skin is super hydrated. When your skin is dry, it steps up production of oil which then will clog your pores and cause a breakout. So yes… dry out the spot, but moisturize the rest of your skin.
If anti-aging is your game, moisture is the key to preventing wrinkles. Although there are ways to reduce the appearance of wrinkles, such as this microneedling vancouver has to offer, using moisturizer may prevent them from appearing in the first place. After moisturizer, I follow up with rose oil to seal all my products in and supercharge my moisturizer. Rose oil has a ton of benefits, including anti-inflammatory, hydrating, and astringent qualities.
A few great moisturizers…
---
(3) Use a vitamin c serum for dark spots… but make sure you swap out the retinol. I have a lot of acne scarring from a horrible bout with adult acne in my early 20s. Luckily, after a round of Accutane, my skin has been amazing ever since. Sadly, I still have some dark spots on my face from the past scarring. I've recently become obsessed with vitamin c serums! If you're looking to even your skintone or get rid of dark spots, vitamin c serum is the way to go. Vitamin C helps to brighten your skin, so products like the gundry md dark spot diminisher and many more include this vitamin to improve damaged skin. I feel like they're sort of buzzy right now, but for good reason! They're really effective and amazing for your skin. I've heard a lot of people talk about vitamin c serums lately so wanted to make sure to throw out a couple of things to keep in mind if you do add one into your routine. Another thing I've heard about in the treatment of acne scarring is something called micro needling; it's non-invasive and even good for skin concerns around ageing, scars, stretch marks, wrinkles or pitting.
a) Vitamin c serums tend to be grainy. In their purest form, vitamin c serums have a sort of gravel-y texture and aren't the most pleasant feeling. If your vitamin c serum isn't grainy… that means it's been diluted with other things as well.
b) Vitamin c serums need to be stored in a dark place and tend to go bad quickly. Keep an eye on it. Also make sure that if you buy a vitamin c serum, you purchase one that is in a dark or tinted bottle. Throw it out when it starts to turn yellow.
c) If you're using a vitamin c serum, make sure that you skip the retinol. There are a lot of mixed opinions from experts about vitamin c and retinol… many doctors say to skip it, some say it doesn't matter… I'd say, why chance it? Just alternate your products, don't use your retinol and vitamin c products at the same time. Better safe than sorry, right?
A few great vitamin c serums…
---

(4) Always wash your face and remove your makeup. OK, this one is a no-brainer, right? Never, ever fall asleep with your makeup on. It's awful for your skin and will only lead to clogged pores and horrendous breakouts. OR… the worst of all… a stye!! I am faithful about taking my makeup off every night, no question. I am basically traumatized after I fell asleep with a smoky eye one time when I was in my 20s and woke up with the most horrible stye that I couldn't get rid of for, like, a year I'm not even kidding.
Not only that, but if you fall asleep with a full face of makeup, you're not doing your nightly routine!! Keeping up with your routine consistently is key to consistent results. How can you improve your skin if you're not taking care of it? Your skin need to breathe and it needs to be maintained and you need to do your routine!
I'm personally a huge fan of double cleansing. I use the IT Cosmetics Makeup Melting Cleansing Balm and then whatever cleanser I typically use. (Usually Cetaphil, but the last week or so I've been doing the Rodan + Fields Redefine regimen, which tbh, I was skeptical of but it has turned out to be amazing! I am not a consultant btw lol!)
A few great cleansers…
---

(5) Skincare is preventative. Even if you're young, you should definitely be starting up your anti-aging regimen. Skincare is preventative. By the time you have a problem, it's too late. By the time you realize that you need to be preventing wrinkles… you should've already been preventing wrinkles. Start using eye cream, wrinkle cream and all that good stuff before you really think you need to and you'll be golden. In the same vein, you could also consult skin care specialists and receive treatments such as thread facelifts, to deal with aging skin problems.
A few great anti-aging products…
---

(6) Match up the base of your primer and your foundation. This one might sound confusing, but hear me out. I recently heard someone say that you should be matching up the bases of your primer and foundation. What that means: if you're using an oil based foundation, you need an oil based primer.
If you're using a water based foundation, you need to use a water based primer. If you use a foundation and primer with different bases, the two formulas won't work as well together, meaning that your foundation and primer may separate and look kind of gross. Oil and water don't mix. It stands to reason that an oil foundation and a water primer or vice versa won't mix either!
A few great foundations + primers…
---

(7) Layer your products correctly. If you're implementing a multi-step regimen, which you should be, make sure that you layer your products properly. That means the order should be: mask, cleanser, toner, serum, moisturizer, eye cream, oil. Keep in mind that any kind of oil should be last because it will seal in all of the other products. Once the oil is on your face, your skin will not absorb anything else.
What do you think? Have you heard these tips before? Do you implement any of these into your beauty regimen? What tips have you collected over the years? Let me know in the comments!
xo Steph