Even though summer doesn't technically begin until June 21, for me, June 1st always feels like the TRUE first day of summer. Something just clicks in my head and summer-mode it is. (Related: can you believe it's June? I know I can't!) The beginning of the month always has me feeling empowered and ready to take on the next 30 days. To that end, I'm rounding up 5 things I want to try this month. (Fashion and beauty related!) Challenging yourself to try new things is something that keeps us out of falling into a fashion rut. Always keep it interesting, I say!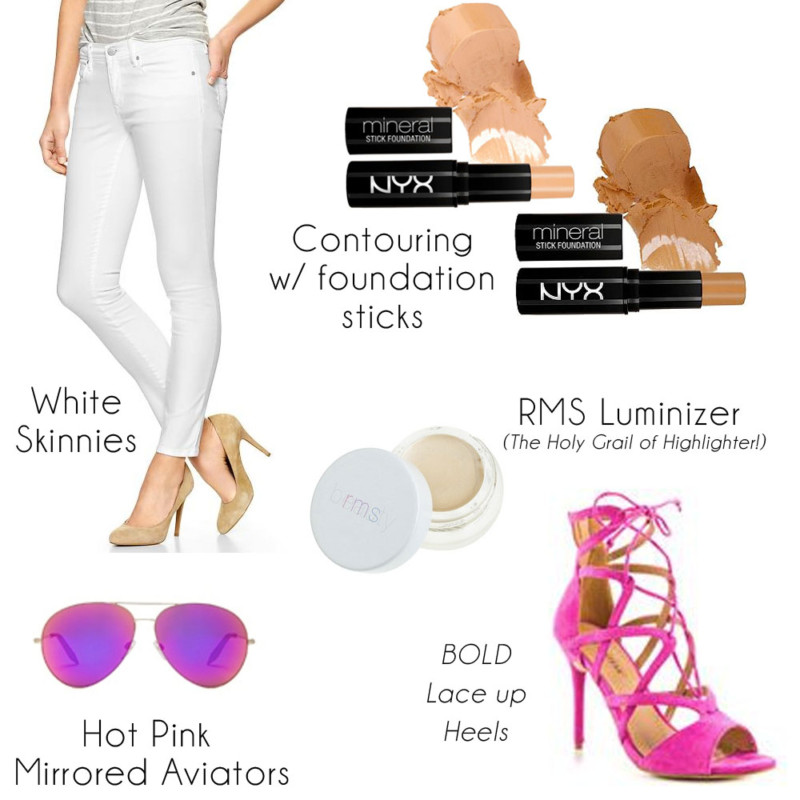 1. White Skinny Jeans
White jeans are the perfect summer denim piece. (Honestly, in Miami, they're a year-round piece. But that's a whole different ball of wax.) This June, I'm hunting down a pair of skinny ankle crops that will be perfect for showing off some bright, fun heels. (Like in #4.)
2. Contouring with Foundation Sticks
I'm obsessed with highlighting and contouring. A quick Pinterest search of "Contouring" pops up thousands of jaw-dropping transformations, done only with make up. It's truly fascinating! I was first introduced to the world of highlighting and contouring, via Maskcara. (Which is an amazing beauty blog, by the way!) Lately, I've been really intrigued by the thought of using foundation sticks to contour my face, and will be scooping up these NYX foundation sticks to do the job. For the contour, I'm picking up the Caramel shade, and for the highlight, I'm going to test out a shade a little lighter than my regular foundation.
3. RMS Living Luminizer
THE RMS Living Luminizer is being touted around beauty blogs as the Holy Grail of highlighter. If you've ever flipped through the JCrew catalogue and enviously admired the easy, pretty glow the models all have… you're in luck. THIS is what JCrew make up artists use to create the look. (And for $38, it can be yours.)
4. BOLD Lace Up Heels
Summer is all about color and I've had my eye on these hot pink Just Fab heels for months. (At this price,  I don't know why I hesitate…they're too good NOT to scoop up.)
5. Hot Pink Mirrored Aviators
I'm typically wary of aviators… finding the right pair can prove to be a challenge. (For some reason, most pairs are too "Frowny" on me…) A pair with hot pink mirrored lenses are too amazing to say to no to.
Tell me in the comments: what are you trying in June?